---
State Insurance Fund Primer
Welcome SIF-er #
It is really easy to enter your unique SIF Values. But of course, you must know them first. They can be found on your SIF Renewal Invoice.
If you can't find that, call the State Insurance Fund at (212) 312-9000. They are courteous and helpful in the extreme !!
You should also be able to find out this information at NYSIF's web site: https://www.nysif.com/weblogin/login.asp
---
In WinPower, go to the Banking Window, Frame 2 ("State Ins. Fund") You will need to enter 3 Values:
1. The State Insurance Fund Policy Year, which is 2004 ("Year Starting").
2. Your "Experience Rating Credit or Charge.
Charges are represented as negative numbers. Put a dash in front of the number if it is negative.
3. Your State Fund Discount (if any).
If you do not have a discount, enter zero (0). If there is a charge, enter the number as a negative.
You should also enter your Policy Number in the upper right hand region, and check that you are a State Insurance Fund Client.
Don't forget to save !!
This is what the Window looks like. The areas you will need to fill out are in red.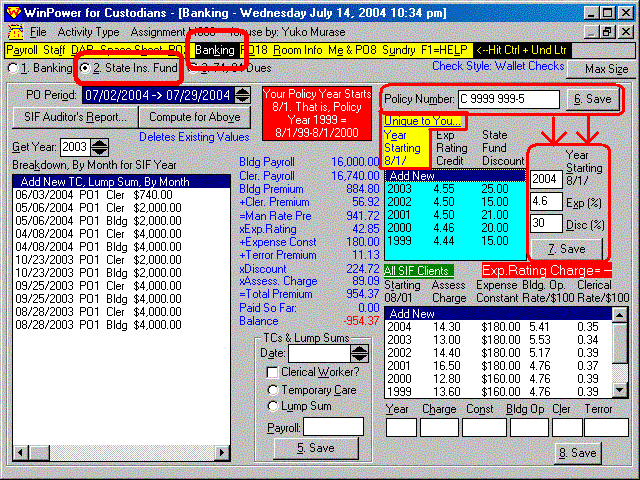 Then....(!!)
Repeatedly, change / increment the pay period, starting from the first pay period in August 2015 (07/17/2015 - 08/13/2016), clicking "Compute for Above, for each of the pay periods, up until 07/15/2016 - 08/11/2016.
The blue text in the middle of this screen will reflect what you've paid-to-date, and what you will owe...
Congratulations...!